introduction
Pharmeasy Company emerged as a digital pioneer in healthcare, revolutionizing the industry by bridging the gap between traditional medicine procurement and modern convenience. The traditional medicine sector's disorganization led to inefficiencies, leaving patients with limited options and inconveniences. The need for a digital solution was paramount, and Pharmeasy Company stepped in to fill that void. By introducing an online platform, Pharmeasy Company streamlined medicine ordering, making it accessible and hassle-free. This transformation not only addressed the shortcomings of the traditional model but also emphasized the importance of digitalization in enhancing healthcare accessibility. Pharmeasy Company's role in online medicine ordering has redefined the way patients access and receive essential healthcare products, marking a significant milestone in modernizing the healthcare industry.
Founders and Inception
Dharmil Sheth and Dr. Dhaval Shah are the driving forces behind Pharmeasy Company's success story. Their shared vision of enhancing healthcare accessibility in India led to the inception of Pharmeasy Company. Recognizing the challenges many Indians faced in accessing essential healthcare, the idea was born to bridge this gap through digital innovation. The core mission was clear: to ensure doorstep delivery of healthcare essentials, making quality medicines and products readily available to all, regardless of their location. This determination to improve healthcare access fueled the foundation of Pharmeasy Company and shaped its journey toward becoming a transformative platform in the Indian healthcare landscape.
The Journey of Growth
Pharmeasy Company's path to success was not without hurdles. The company encountered various challenges, including multiple strategic shifts and setbacks with investors. Despite these obstacles, the founders displayed unwavering determination and resilience, channeling their efforts to surmount every hurdle that came their way. Their commitment to their vision and the healthcare cause propelled them forward.
One pivotal move was the transition from an offline model to a digital healthcare platform. This shift marked a turning point for Pharmeasy Company, allowing them to harness the potential of technology and the internet. By embracing digitalization, they transformed the way patients accessed healthcare products, opening up new avenues for growth. This strategic pivot enabled Pharmeasy Company to bridge the gap between patients and pharmacies, leading to a surge in their reach and impact.
Pharmeasy Company's journey is a testament to the power of perseverance and innovation. Through challenges and change, the company evolved into a digital healthcare leader, revolutionizing the industry and showcasing the incredible impact that can be achieved with a steadfast vision and unwavering commitment.
Business Model and Innovation
Pharmeasy Company operates as an innovative e-commerce platform, catering to the healthcare sector. Its business model revolves around simplifying medicine procurement and healthcare product access. The platform facilitates a seamless process, starting with patients uploading their prescriptions. This prescription is then forwarded to a nearby pharmacy, streamlining the entire ordering process.
From there, Pharmeasy Company ensures a smooth journey by adhering to strict guidelines during the collection and packaging of medicines. The delivery agent follows all necessary precautions, guaranteeing the safety and quality of the products. It's important to dispel the misconception that discounted products equate to compromised quality. Pharmeasy Company's discounted offerings don't compromise on excellence. The platform stands committed to delivering top-notch healthcare products, ensuring that customers receive items of the same high quality as those available in traditional pharmacies.
Achievements and Expansion
Pharmeasy Company's strategic partnerships with more than 150 vendors have fortified its position as a prominent player in the healthcare sector. This extensive network enables seamless access to a wide range of healthcare products for its users across major Indian cities.
The company's growth journey reached pivotal milestones through acquisitions. The acquisition of Thyrocare and Aknamed highlighted Pharmeasy Company's expansion and diversification efforts. These strategic moves not only broadened its service offerings but also demonstrated its commitment to enhancing healthcare accessibility.
In the realm of financial achievements, Pharmeasy Company's funding rounds have propelled it to unicorn status. With a valuation reported at $1.5 billion, Pharmeasy Company has secured its place among India's most valuable startups. This impressive valuation reflects investor confidence in the platform's potential and underscores its influential role in shaping the future of healthcare delivery in the country.
Data and Technology's Role
Data and technology have been pivotal in shaping Pharmeasy Company's triumphant journey. Leveraging these tools, Pharmeasy Company has not only streamlined operations but also enriched the overall healthcare ecosystem.
The platform's success hinges on its ability to harness data-driven insights. By analyzing user preferences, demand patterns, and supply chain efficiency, Pharmeasy Company optimizes its services. This approach not only ensures seamless operations but also creates a robust health ecosystem that caters to diverse needs.
Pharmeasy Company's innovative use of technology is key to enhancing customer experiences. The platform's user-friendly app and web interface provide convenience and accessibility. Through innovative features like prescription uploads, real-time order tracking, and secure payment gateways, Pharmeasy Company offers an unparalleled customer journey. This integration of technology creates a cohesive ecosystem that prioritizes user satisfaction, positioning Pharmeasy Company as a trailblazer in healthcare delivery.
Revenue Model and Financials
In the fiscal year 2021, Pharmeasy Company achieved a remarkable revenue of $315.99 million, underscoring its substantial growth and impact in the healthcare sector.
As of February 2022, Pharmeasy Company's valuation soared to an impressive $5.4 billion, a testament to its exponential growth and investor confidence. The company's journey has been supported by a total funding of $1.60 billion, reflecting the significant backing it has garnered from investors who recognize its potential to reshape healthcare accessibility and delivery.
Pharmeasy Company's Future Vision and Commitment
Pharmeasy Company's future vision encompasses a comprehensive approach to healthcare. Beyond medicines, the company aims to expand into consultations, delivery, and diagnostics, creating a holistic healthcare ecosystem that caters to diverse needs.
To reinforce this vision, Pharmeasy Company has appointed new independent directors to its board, including industry experts from companies like Titan and Livspace. This move demonstrates the company's commitment to bringing diverse perspectives and expertise to its leadership, further enhancing its capabilities and reach.
Pharmeasy Company's dedication to holistic healthcare services is evident. By integrating consultations, delivery, diagnostics, and more, the company is positioning itself as more than just an online pharmacy. It aspires to be a one-stop solution that empowers users to manage their health comprehensively, solidifying its role as a transformative force in the healthcare landscape.
Conclusion
Pharmeasy Company's journey began with a vision to enhance healthcare accessibility. From its inception, it tackled the challenges of the traditional medicine industry through innovation and determination.
The introduction of Pharmeasy Company's digital platform marked a turning point in healthcare accessibility. It streamlined medicine procurement and delivery, bridging gaps between patients and pharmacies. This transformation resonated across India, modernizing healthcare delivery and making essential services more reachable than ever before.
Founders Dharmil Sheth and Dr. Dhaval Shah's dedication and innovation were pivotal. Their unwavering commitment to making healthcare easier to access fueled Pharmeasy Company's rise. Their vision, combined with cutting-edge technology, positioned Pharmeasy Company as a key player in India's healthcare industry, paving the way for a future where quality healthcare is just a click away.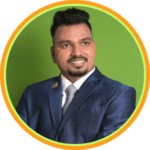 Sunjjoy Chaudhri Has Been an Entrepreneur Since the Age Of 23, Sunjjoy Chaudhri is a Founder of Mega Setup Mastery, Fxpopsan Exchangers and Malgangas Consultancy. Sunjjoy Chaudhri is a Highly Accomplished and renowned business consultant based in Pune. With an Impressive track Record and a Wealth of Experience, Sunjjoy has Established himself as one of the best Business Consultants in the Region